PRICE FOR QUANTITY 12+ PCS (40% discount). WRITE THE SIZES YOU WANT IN THE COMMENTS FIELD OR SEND EMAIL TO info@canelana.no.
NB - sizes M and L are sold out and will not be available until October 2023
Warming dog coat with merino wool lining. Developed for sled dogs in collaboration with experienced mushers. Sandwich model. The outer layer is windproof and water resistant, made of a light ripstop fabric (equivalent to materials used on some light down jackets), in the middle is thin wool felt made of 100% merino wool, and on the inside is perforated lining. Tightening on the inside by the tail, to ensure a good fit over the back and thighs. Loop for the harness. The coat has pockets on the inside for placement of heating packs at the shoulders and back/hips of dogs that need heat treatment. No seams in front, the seam is on the back. 

Weight: ca. 400 grams.

The Racing coat has a flap with neoprene inside, which protects against frostbite. The flap also protects against crosswind. The neoprene in the flap makes it water repellent.
Jessie Holmes feedback from Copper Basin 2022: "Many mushers and vets took note of my coats at the Copper basin where the temperatures were down to 60 below zero (= -51C). According to the vets I was the only person to not have frostbite issues on my dogs. I was also the only person using your coats, they helped a whole lot." Foto: Jessie Holmes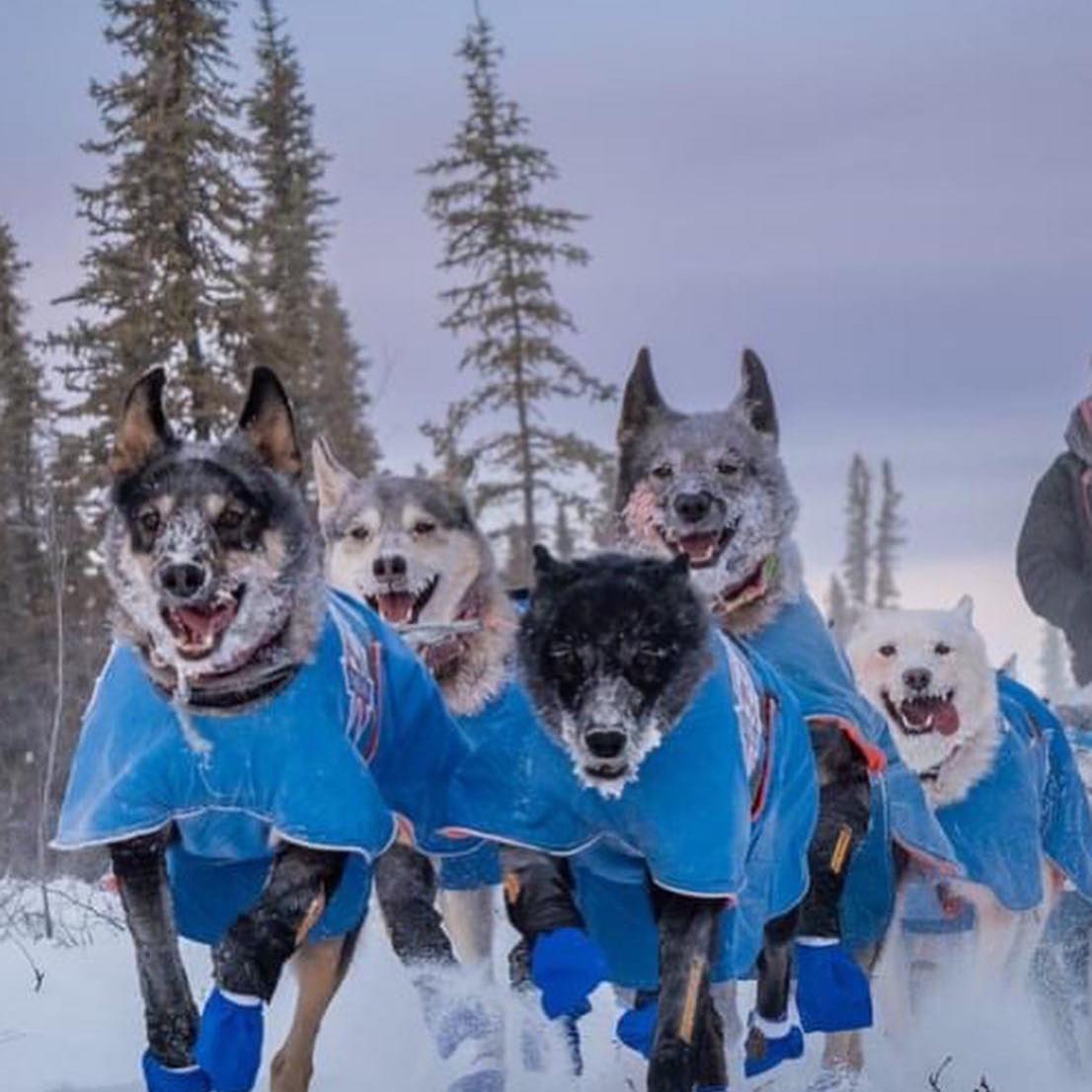 The Racing coat is also suitable for other dogs/breeds in activity; hunting dogs and other working dogs; the Racing is not just for sled dogs. The coat is windproof and water resistant, but not waterproof, so it will get wet in rain. If you do not want the protective flap with neoprene and do not need the pockets for heat bags, model SPORTING should be your choice.

4 sizes (Alaska husky sizes): XS, S, M, and L (see size guide for measurements)

Reflective tape at the back (loop for harness),- with sizes color code: blue = XS, yellow = S, orange = M, and black = L.

Reviews from mushers:

Joar Leifseth Ulsom (23/09/2017): "I used your coats during the entirety of Iditarod and a lot during training and was satisfied. They are the coats on the market that warm and protect best." (Translated from Norwegian)

Aaron Burmeister (after Iditarod 2017): "These are the best designed and most protective dog coats made."

Mats Petterson (after Iditarod 2017): "Awseome jackets run theme all the time on the dogs and the best one we ever had not get wet and dry all the time just a super produkt as everything else from Canelana 👍👍 Thanks to let us be part of your team"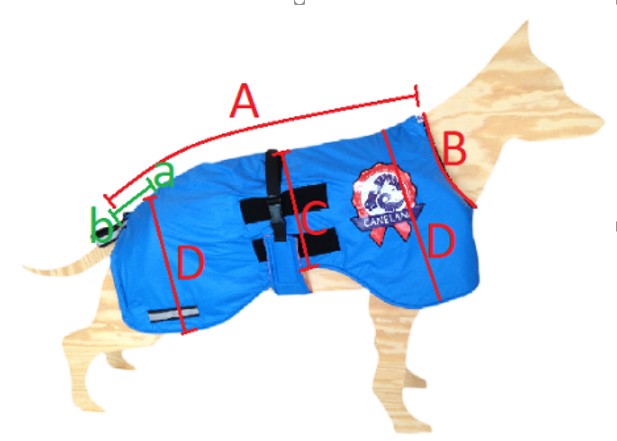 | | | | | |
| --- | --- | --- | --- | --- |
| SIZE | TOTAL BACK LENGTH DOG COAT (A) | NECK CIRCUMFENCE (B) | HEIGHT BREAST (C) | HEIGHT SHOULDER/ HIP (D) |
| XS | 61 | 40 | 24 | 30 |
| S | 65 | 42 | 25 | 32 |
| M | 68 | 46 | 26 | 34 |
| L | 71 | 50 | 28 | 36 |