The Ambassador coat represents everything Canelana stands for, thereby the name. It is made of 100% thick merino wool, the same fabric as used in the jackets for people (Multi and Grimsbu). The coat is warm, comfortable and functional. It is neither waterproof nor windproof, but it is cozy and warm. Pleasant for the dog to wear in the car when it's cold. Nice to have on before and after both training or trips. Wool provides warmth even if it's wet. It's also non-static, and odors don't stick to wool coats like they do to synthetic coats. For each degree the body temperature increases, the elasticity of tendons and muscles also increases. This is true for both dogs and people. In other words; wearing a wool coat before and after training is not just comfortable, it also prevents injury. A coat to keep your dog warm is not a knick-knack.

The Canelana wool coat, Ambassador, has the same clever fit as the Canelana Thermo, Land, Frost and Aurora, and it fits perfectly.

AMBASSADOR dog coat has been tested by DOG GEAR REVIEW (USA): https://doggearreview.com/review/canelanaambassador/?fbclid=IwAR2Wp2uOGcOc40lyZkIvLv55YAW3XdfHhomKpu0mkMrkGa5pvMcPxGEyNcg
Our dog coats do not have hole for harness, the harness should be used on top of the coat:
Size Guide CANELANA dog coats

Size

Back length according to the illustration

5xs

20

4xs

22,5

3xs

25

2xs

27

XS

31

S

35

S/M

40

M

45

M/L

48

L

58

XL

64

XL LONG

69

2XL

73

2XL LONG

85

XS terrier

31

S terrier

35

S/M terrier

40

M terrier

45

Dachs 30 cm

30

Dachs 33 cm

33

Dachs 36 cm

36

Dachs 40 cm

40

Dachs 45 cm

45

Dachs 50 cm

50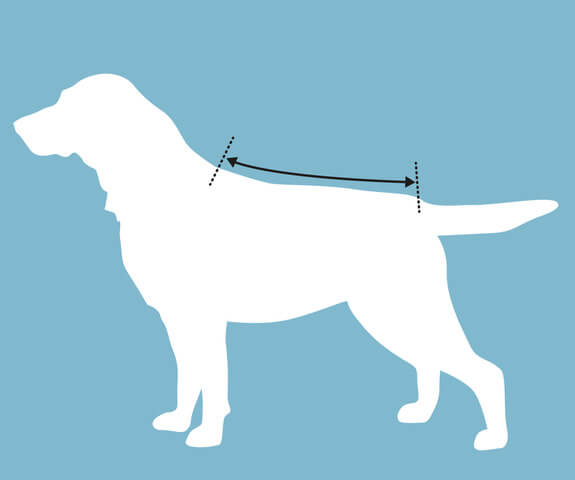 The coat is measured from the elastic closing around the neck, to the MIDDLE of the incision sewn at the back (or to the opening for the tail on terrier sizes). The closing around the neck will be a little in front of the shoulder blades. The base of the tail should be approx. in the middle of the sewn incision so that the coat will be long enough to cover the hips.
Measure your dog between the lines in the illustration above.
How to put on the coat: 1) put over the head, 2) tighten properly around the neck, 3) fasten the part that goes down under the chest and over the back, 4) fasten the part that goes between the front legs and adjust the elastic if necessary, 5) tighten the elastic at the back so that the coat lies nicely down and covers thighs and buttocks (see photo below)