NB! Sizes/colors that are sold out will not be available. Model LANA replaces Aurora in our collection.
Canelana Aurora is a dog coat in pure merino wool. Comfortable for dogs to wear in the car when it is a bit chilly. Great to wear before and after training or a trip. We know an old dog that uses the Aurora as pajamas, which helps her sleep and she doesn't feel the need to go out at night. Wool absorbs moisture and keeps you warm even if it's wet. Wool is non-static, and odors don't stick to wool coats like they do to synthetic coats. For each degree the body temperature increases, the elasticity of tendons and muscles also increases. This is true for both dogs and people. In other words; wearing a wool coat before and after training is not just comfortable, it also prevents injury.

Sizes and measurements:
Available in turquoise/blue and red, and in sizes ranging from 3XS to 2XL. Models that are rounded to fit the tail are available in size XS, S, and M.
Take measurements from the dogs neck where the collar usually sits and to the base of the tail.

The Canelana wool coat, Aurora, has the same fit as the Canelana Thermo and Ambassador, and fits perfectly on most dogs.

Please note: the Aurora is made of a thinner fabric than the Thermo, but are sewn to the same measurements. Thermo is therefore thicker, and it is possible that your dog may need one size smaller in the Aurora than it would need with the Thermo.

Size examples:
XS Terrier fits dogs such as Jack Russels.
M is appropriate for whippets and dogs of similar size.
M/L is suitable for pointers and border collies.
L is for small German shepherds and larger border collies.
XL fits dalmatians, German shepherds, and giant schnauzers.
XXL is for dogs such as Great Danes.

 
Størrelsesguide Canelana dekken
| Størrelse | Rygglengde cm |
| --- | --- |
| 5xs | 20 |
| 4xs | 22,5 |
| 3xs | 25 |
| 2xs | 27 |
| XS | 31 |
| S | 35 |
| S/M | 40 |
| M | 45 |
| M/L | 48 |
| L | 58 |
| XL 64 cm | 64 |
| Størrelse | Rygglengde cm |
| --- | --- |
| XL 69 cm | 69 |
| 2XL | 73 |
| XS terrier (åpning for hale) | 31 |
| S terrier (åpning for hale) | 35 |
| M terrier (åpning for hale) | 45 |
| Dachs 30 cm | 30 |
| Dachs 33 cm | 33 |
| Dachs 36 cm | 36 |
| Dachs 40 cm | 40 |
| Dachs 45 cm | 45 |
| Dachs 50 cm | 50 |
Dekkenet er målt fra strammingen i halsen til midt på innsnittet bak (eller til innsvinget for halen på terrier-modellen). Strammingen i halsen kommer omtrent mellom skulderbladene på hunden, litt foran hvis du strammer opp dekkenet i halsen, og halerot bør være omtrent midt på innsnittet for at det skal være langt nok til å legge seg ned over hoftene. Mål altså hunden fra midt mellom skulderbladene (eventuelt litt foran) til halerot for å finne riktig størrelse dekken.
NB – Ambassadør, Aurora og Thermo er klippet etter samme mål. Thermo virker trangere og litt mindre enn Ambassadør og Aurora i samme størrelse fordi det fyller mer med softshell utenpå og tykk ull inni. Det er derfor mulig at hunden bør ha en størrelse mindre i Ambassadør enn den har i Thermo.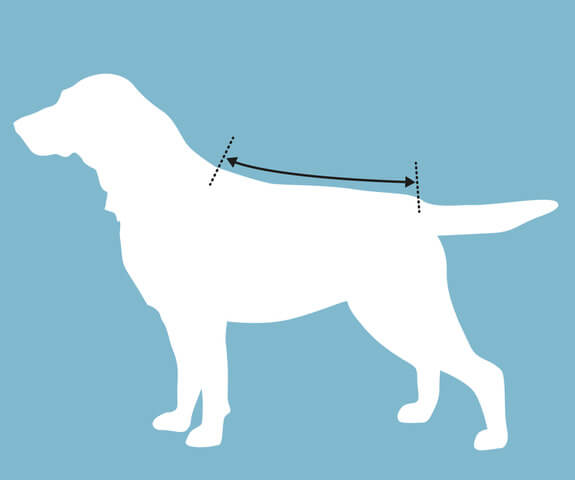 Mål tas som vist på bildet